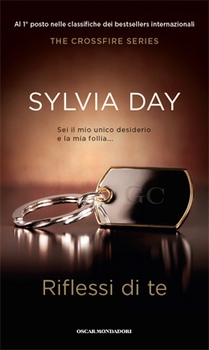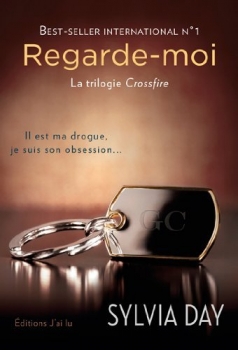 *
Étiquette du livre
-
Titre original :
Reflected In You
(2012)
-
Titre français :
Regarde-Moi
(2013)
-
Auteur :
Sylvia Day
-
Maison d'édition originale :
Penguin Books
-
Maison d'édition française :
J'ai Lu
- Grand format, 338 pages (VO)
-
Note personnelle :
17/20
-
Achat :
7€70 (Fnac)
*
Quatrième de couverture
Gideon Cross. As beautiful and flawless on the outside as he was damaged and tormented on the inside. He was bright, scorching flame that singed me with the darkest of pleasures. I couldn't stay away. I didn't want to. He was my addiction... my every desire... mine.
My past was as violent as his, and I was just as broken. We'd never work. It was too hard, too painful… except when it was perfect. Those moments when the driving hunger and desperate love were the most exquisite insanity.
We were bound by our need. And our passion would take us beyond our limits to the sweetest, sharpest edge of obsession…
*
Contexte de lecture
Cette lecture entre dans le cadre du
Challenge Read In English
, et aussi dans le challenge
Compte tes pages
.
*
Avis
Après avoir découvert ce couple si torturé et pourtant si complémentaire dans le tome 1 de Crossfire, je me suis régalée en les retrouvant dans cette suite. Comment vous dire ? Ce livre m'a fait rire, pleurer et hurler de rage. On traverse avec Eva le tourbillon de sa vie amoureuse, qui au fur et à mesure des pages devient de plus en plus floue, complexe et on ne souhaite qu'une chose, comprendre les agissements de Gideon, comprendre pourquoi diable il lui en fait voir autant... Jusqu'à la fin du tome, où l'on finit enfin par avoir la révélation, l'explication qui fait que tout devient clair, le voile se lève sur ses agissements et sur une partie de son passé et là, on est encore plus "amoureux" de ce personnage...

Concernant les autres personnages, j'ai été heureuse de voir que Cary n'est pas relégué au second plan, même si les méthodes sont affreuses, je l'adore. Monica et ses habituelles insanités sur le contrôle de la vie de sa fille sont moins présentes mais on apprend un peu plus sur ce personnage et c'est une bonne chose. Tout comme la présence du père qui est un peu plus marquée dans ce tome.

Je n'aurais pas grand chose de plus à dire, si ce n'est que j'ai hâte de lire le tome 3 afin de voir ce qu'il va se passer ensuite.
*
Citations
"- You are not going to die. Flying is safer than driving."
"- And you don't think the airline industry paid for the compilation of those statistics?" Eva and Cary

"- Gimme that coffee. I want to be caffeinated when I kick your ass." Eva to Gideon

"People get over love. They can live without it, they can move on. Love can be lost and found again. But that won't happen for me. I won't survive you, Eva." Gideon to Eva