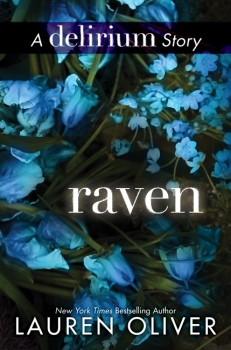 *
Étiquette du livre
-
Titre original :
Rave
n
(2013)
-
Auteur :
Lauren Oliver
-
Maison d'édition originale :
Harper Collins
- Ebook ePub (VO)
-
Note personnelle :
16/20
*
Quatrième de couverture
This captivating 50-page digital-original story set in the world of Lauren Oliver's New York Times bestselling Delirium series focuses on Raven, the fiery leader of a rebel group in the Wilds.
As a teenager, Raven made the split-second decision to flee across the border to the Wilds, compelled to save an abandoned newborn—a baby girl left for dead and already blue from the cold. When she and the baby are taken in by a band of rebels, Raven finds herself an outsider within a tight-knit group. The only other newcomer is an untrustworthy boy known as the Thief until he finally earns himself a new name: Tack.
Now she and Tack are inseparable, committed to each other, the fledgling rebellion, and a future together. But as they both take center stage in the fight, Raven must decide whether the dangers of the revolution are worth risking her dreams of a peaceful life with Tack.
As her story hurtles back and forth between past and present, Raven transforms from a scared girl newly arrived in the Wilds to the tough leader who helps Lena save former Deliria-Free poster boy Julian Fineman from a death sentence. Whatever the original mission may have been, Raven abides by a conviction that she believes to her core: You always return for the people you love.
By turns surprising, revelatory, and poignant, Raven's story enriches the Delirium world and resonates with a voice that is as vulnerable as it is strong.
*
Contexte de lecture
*
Avis
Cette nouvelle, centrée sur le personnage de Raven, nous raconte deux périodes distinctes de sa vie. Celle de son passé qui nous explique son enfance et sa fuite vers la Nature, son lien unique avec Blue et Tack, puis sa vie présente qui se déroule au moment de l'évasion de Julian depuis la clinique.
Ainsi, on découvre une Raven qui se devait, dès son plus jeune âge; d'être une dure à cuire pour survivre au sein de sa famille et qui n'a eu de cesse de s'endurcir depuis son arrivée parmi les Invalides. J'avais déjà beaucoup aimé ce personnage dans le tome 2, et avec cette courte histoire je ne peux que l'apprécier d'avantage. On comprend aussi, au fur et à mesure de la lecture, pourquoi elle est revenue aider Lena à délivrer Julian d'une mort certaine, et les doutes que j'avais eu sur sa relation avec Tack se sont avérés être encore plus importants que ce que j'avais imaginé. J'ai hâte de savoir ce qu'il va leur arriver dans le troisième tome, comme je suis aussi impatiente de découvrir la suite de Lena-Alex-Julian...!
*
Citations
"Lies are just stories, and stories are all that matter." Raven
"You need to give people the broad strokes, the things they're expecting : the main characters and the buildup. And the climax, of course. A good story always needs a climax." Raven
"Lena took a stand, and so I took a stand with her. That's what you do for family. Anything." Raven